Jungle Jokes
by Gregory J. Holch, Anne Rogers (Leslie) and Ellen Steiber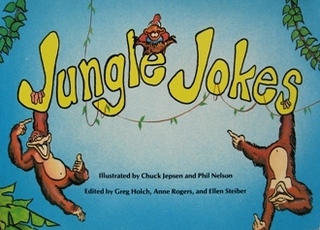 Jungle Jokes follows a boy and girl, who board the rowboat "Jungle Gypsy", for a journey to the jungle. Each page has one joke and a black & white illustration by Chuck Jepsen and Phil Nelson.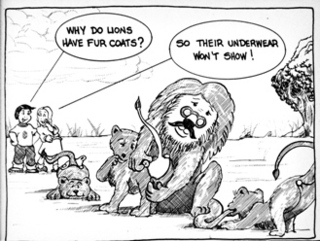 I co-wrote Jungle Jokes with Anne Rogers (Leslie) and Ellen Steiber when we all worked as editorial assistants at the short-lived Random House Student Book Clubs. Chuck and Phil were friends of mine from Greenwich, Connecticut, who had an animation studio called Ball and Chain. On this page, they drew the three authors as baby lions. I am on the left, Ellen is in the middle, Anne is on the right. Our boss, Grover (Pug) Askins is the older lion.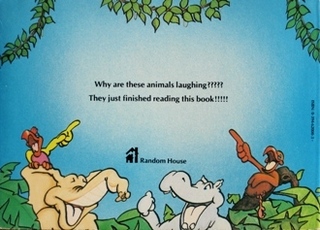 Jungle Jokes was published in 1979. After the Random House Student Book Clubs were dissolved, the remaining copies were sold to Scholastic who offered the book on the Scholastic Book Clubs until it sold out. The book is no longer in print, although you may still find a used copy on Amazon.

Through a strange publishing error, Grove Press used the same ISBN number for their book The Rolling Stones A to Z, which was published four years later.
ISBN 0-394-62000-3 (paperback only)
Copyright © 2010-2021 by Gregory J. Holch. All Rights Reserved.