The Things with Wings
by Gregory J. Holch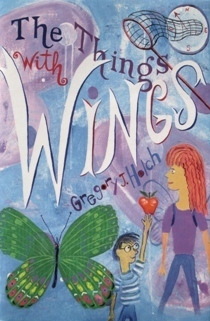 Something strange is going on in the town of Angel Falls. Something to do with the Emerald Rainbow butterflies that come to the town every spring. Something that the adults want to keep secret.

Newton and Vanessa intend to find out what's going on. Why have all the other kids in their class suddenly disappeared? And who is the mysterious man in the black hat following them?

Newton and Vanessa's adventure is about to take wing….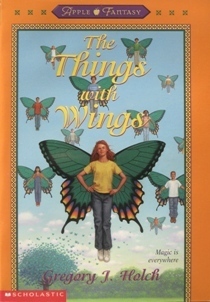 ISBN 0-590-93501-1 (hardcover, 1998)
ISBN 0-590-93502-X (paperback, 1999)
The hardcover was published in a first edition (one impression only) of about 4,000 copies.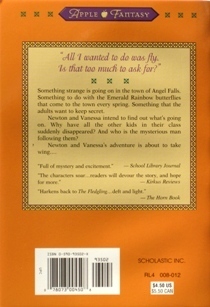 Information for librarians:
[Subject headings: 1. Butterflies--Fiction. 2. Flight--Fiction. 3. Metamorphosis--Fiction.]
PZ7.H6967Th 1998 [Fic]--dc21 97-10679
J FIC H


Here is the first page of The Things with Wings
Every year, on the first warm, sunny day of
spring, the butterflies returned to the little
town of Angel Falls.

In the same way that the swallows return each
spring to the town of San Juan Capistrano, or the
great flocks of millions of Monarch butterflies
travel each fall to a tiny four-acre valley in the
mountains of Mexico, the butterflies flew back to
Angel Falls.

No one seemed to know why they came. They
didn't stay long -- only one week -- before continuing
their migration north. But for that one week
each spring, the town was literally covered with
the multicolored butterflies known as the
Emerald Rainbow.

It was an afternoon near the end of April,
during spring vacation, and Newton Bellnap was
sitting under an apple tree in the middle of a field,
waiting for the first butterfly of spring.

Copyright © 1998 by Gregory J. Holch
All rights reserved. Excerpted from The Things with Wings by Gregory J. Holch. For information regarding permissions, write to Scholastic Press, a division of Scholastic Inc., 555 Broadway, New York, NY 10012.

Copyright © 1998 & 2010-2021 by Gregory J. Holch. All Rights Reserved.